Prepare for the PSTN switch-off
We are here to guide you through the imminent transformation in the telecommunications landscape—the switch-off of the Public Switched Telephone Network (PSTN), which will impact a significant portion of voice and data services nationwide . As the industry transitions to more advanced and flexible voice and data connectivity options, it's crucial to be prepared and embrace the future of communication.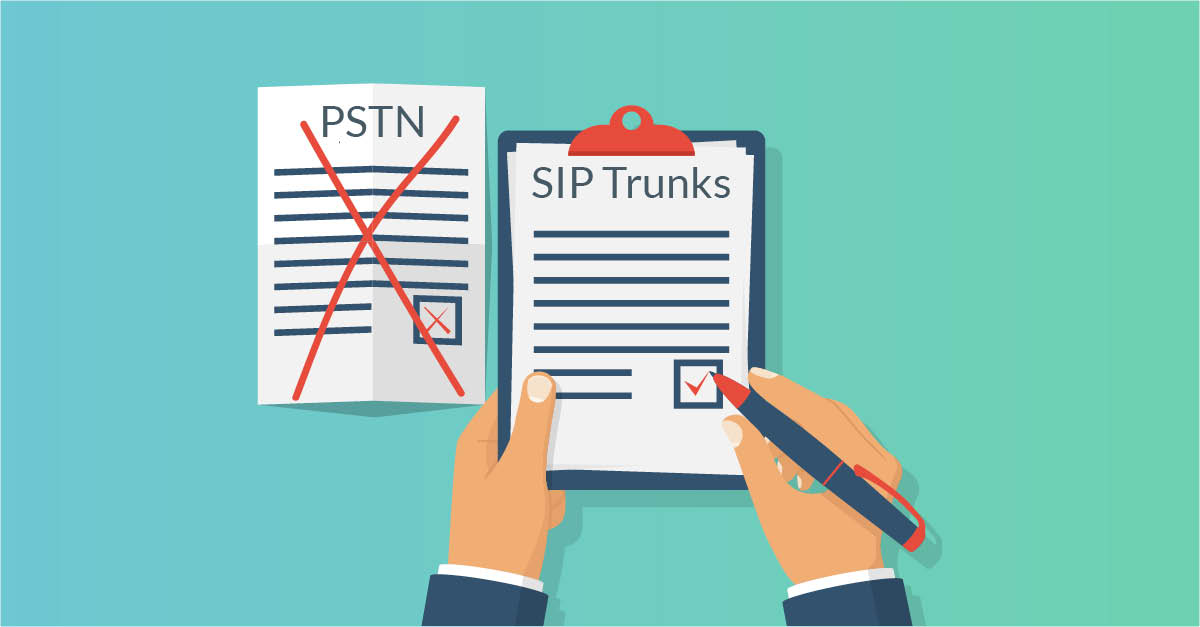 Why is the PSTN switch-off important?
The PSTN switch-off marks a pivotal moment in communication history. PSTN has been the backbone of traditional analogue voice services such as analogue voice, ISDN, ADSL and FTTC for many years. Openreach, who maintain this network are closing it down in December 2025 and the nation will need to shift towards new digital technologies that offer enhanced features, scalability, and cost efficiency. By understanding and adapting to these changes, your organization can unlock a world of possibilities and stay ahead in a rapidly evolving digital landscape.
Seamless connectivity
Embrace the power of Voice over IP (VoIP), Unified Communications as a Service (UCaaS), and Session Initiation Protocol (SIP) trunking. These cutting-edge alternatives to the traditional landline system provide unified communication experiences, integrating voice, video, messaging, and collaboration tools within a single platform. All delivered over the latest fast, reliable and futureproofed fibre and SOGEA broadband services.

Enhanced features
Say goodbye to the limitations of the past. The new connectivity options offer advanced features like call forwarding, voicemail, video conferencing, and more. Empower your team with the latest up to 1Gbit/s fibre broadband speed and the enhanced VoIP and UC tools that boost productivity, streamline workflows, and facilitate seamless collaboration across locations.
Cost savings and scalability
With the switch-off, you can eliminate the maintenance and infrastructure costs associated with outdated systems, such as legacy ISDN channels and analogue telephone lines for calls . The new options are scalable, allowing your organization to adapt to changing needs effortlessly. Whether you're expanding, downsizing, or transitioning to remote work, these technologies can seamlessly adjust to your requirements.
Why is the PSTN being switched off?
There are a number of challenges to both our customers and Openreach from delivering traditional voice and data services over the PSTN.
Legacy: BT Challenges
Legacy: Customer Challenges

Failure rates: PSTN is 40 years old and is end of life supported by in-house platform engineers and vendors. PSTN was never designed to be utilised for Broadband services, and a failing network has knock-on impacts to the reliability of essential Broadband services

Spares: Analysis suggests PSTN can be sustainable through 2025 through compaction, but cannot be supported beyond 2025.

Skills: 27% increase in PSTN incidents over the last 2 years - end of life equipment

Cost: there are significant costs associated in supporting legacy networks, limiting opportunity to invest in strategic developments.

Separate networks: having separate networks for data and voice can result in complex setups which are difficult to manage

Restrictive technology: Whilst often robust, the technology can be restrictive in terms of feature set and result in a flawed business continuity and remote working implementation.

Skills: majority of skillset in the market is focused on data networks and IP voice resulting in a scarcity and premium for resources to manage legacy networks.

Future Proofing: As stated, PSTN was never designed to carry vast amounts of data with low latency and has reached the end of its useful life with no viable way of increasing the reliability or speed of broadband services. The increased reliance on high speed, high bandwidth Broadband services has meant that alternative fibre networks have needed to be deployed to deliver todays and tomorrows requirements.
Ultimately the PSTN switch-off will enable UK businesses to consolidate and take advantage of the latest IP services whilst allowing Openreach and other suppliers to rationalise its legacy offerings and invest in strategic services.
We understand that navigating the PSTN switch-off can be overwhelming. That's why we're here to support you every step of the way. With our expertise, personalized solutions, and commitment to your success, we ensure a smooth transition to the future of communication.
Assessment
Our experts will conduct a thorough assessment of your current infrastructure and communication needs, helping you determine the best alternative connectivity options tailored to your organization.
Migration plan
We will work closely with you to develop a comprehensive migration plan, outlining the timeline, steps, and potential downtime involved. Rest assured, we prioritize minimal disruption and a seamless switch-over.
Support
Our dedicated team will provide the necessary assistance, ensuring your infrastructure is ready for the transition. From equipment upgrades to network configuration changes, we've got you covered.
Training
We believe in empowering our clients. Our training sessions, documentation, and ongoing support will help your staff adapt to the new communication tools, maximizing the benefits of the switch-off.
Frequently Asked Questions
The PSTN switch-off refers to the planned phase-out of the Public Switched Telephone Network (PSTN), the traditional landline infrastructure used for voice communication, in December 2025. It is being replaced by more modern and flexible connectivity options such as SOGEA Broadband and FTTP Broadband, as well as more modern voice services such as Voice over IP (VoIP), Unified Communications as a Service (UCaaS), and Session Initiation Protocol (SIP) trunking.
The switch-off is driven by the need for more advanced communication technologies that offer greater flexibility, scalability, and integration capabilities. The PSTN is a legacy system that requires significant maintenance and cannot keep up with the evolving demands of modern communication or broadband bandwidth, speed and reliability requirements.
The switch-off may require you to transition from your current ISDN or PSTN lines to alternative options. Services that run over the PSTN, such as ADSL, FTTC, EPOS, CCTV, Telecare Pendants or lift alarms will also be impacted. While this may involve some changes to your infrastructure and communication systems, it presents an opportunity to access advanced features, streamline workflows, and potentially reduce costs.
There are several alternative voice options available, including Voice over IP (VoIP), Unified Communications as a Service (UCaaS), and Session Initiation Protocol (SIP) trunking. These technologies leverage the power of the internet to deliver voice, video, messaging, and collaboration tools, providing a unified and feature-rich communication experience. These services will all require an underlying Internet service to be utilised, such as a Broadband or Ethernet service. All of these services can be provided by FluidOne.
There are several alternative connectivity options available to replace ADSL and FTTC Broadband services, including FTTP (Fibre-to-the-Cabinet), which is a fully fibre based service that offers broadband speeds of up to 1Gbit/s, SOGEA (Single Order SOGEA), which is a similar service to existing FTTC but has no reliance on PSTN or 4G/5G cellular broadband services. These services have been designed with the future requirements of your business in mind, and will continue to deliver a more reliable, more cost effective service than legacy services.
We are committed to supporting you throughout the PSTN switch-off transition. Our team of experts will assess your organization's needs, develop a customized migration plan, provide equipment and infrastructure support, and offer training and resources to ensure a seamless switch to the new connectivity options.
While some minimal downtime may be required during the transition, our team will work diligently to minimise disruptions to your communication services. We will carefully plan and execute the migration process to ensure a smooth switch-over.
Transitioning to alternative connectivity options offers numerous benefits, including enhanced features, seamless integration, scalability, and potential cost savings. You will have access to advanced communication tools, improved collaboration capabilities, and the flexibility to adapt to changing business needs.
To get started with the transition, simply contact us at FluidOne. Our team will guide you through the process, assess your requirements, and create a customized plan to smoothly transition your organization to the new connectivity options.
Don't leave it to the last minute, get in touch today
Prepare your organization for the PSTN switch-off and embark on a journey of innovation, efficiency, and collaboration. At FluidOne, we are committed to helping you thrive in the digital age. Contact us today to begin your seamless transition to the advanced connectivity options that will shape the future of your communication.